The School of Life (2020) Anna Freud. Available from: www.theschooloflife.com [Accessed 2 March 2020].
BBC Mind Changers Podcast
Anna Freud and Child Observation
https://www.bbc.co.uk/sounds/play/b01s0s6m
---
Anna Freud (1895-1982)
Anna Freud was born in Vienna. She was the youngest daughter of Sigmund Freud and Martha Bernays. She is the only child, of the couple's six children, who pursued a career in psychoanalysis.
Anna was analysed by her father beginning in 1918.
In 1923 she became a psychoanalyst.
"Anna Freud was the youngest child of Sigmund Freud and his wife Martha. As a young adult in 1918, she entered analysis with her father. By 1922, she had become a full-fledged member of the Vienna Psychoanalytical Society. She made her father's profession her own and child analysis her specialty. Anna Freud never married or had children. She was her father's constant companion, his colleague, and his nurse during the final years of his life. After the Nazis invaded Austria, the Freud family fled to England. Anna lived in the London house she shared with her father until her own death more than four decades later. Their home was then transformed into the Freud Museum."
Reference:
The Adoption History Project (2020) Anna Freud. Available from: https://pages.uoregon.edu/adoption/people/AnnaFreud.htm [Accessed 3 March 2020].
---
Anna Freud wrote about defense mechanisms in her book:
The Ego and the Mechanisms of Defence 
Examples of Defence Mechanisms: Denial, Projection, Sublimation, Regression, Rationalisation, Intellectualisation, Displacement, Fantasy, Reaction, Isolation
Examples of Defence Mechanisms
https://www.psychologytoday.com/ie/blog/fulfillment-any-age/201110/the-essential-guide-defense-mechanisms
"Nowhere can this struggle of the ego be seen in sharper relief than in the lives of children. Caught between instinctual pressures from within and harsh demands without, it remains intact by seeking out for its use a variety of mechanisms of defense. And what Anna Freud was able to show us was that the mechanisms chosen will depend on the source of the danger. She discovered that the little girl who insists on orderliness and cleanliness in herself and in others is actually reacting against internal anal impulses, against her desire for messing and soiling. In the case of denials, Anna Freud isolated the danger as the inability to deal with external reality—the little boy who cannot accept his smallness and "becomes" a lion. By reversing the facts of life in this way, children regularly protect themselves—their egos have won a victory."
"And here the nature of the defenses are studied not so much in terms of conflict and struggle, but in terms of their constructiveness, their useful ness to the child in making him stronger and healthier. Now, we find Anna Freud thinking about the fantasies of children not as denials of reality, or as reversals of the truth, but rather as pathways to constructive play, to imaginative storytelling—even to intellectualizing. Perhaps one might say that she took this line in response to Melanie Klein: as Mrs. Klein went deeper into the unconscious and concentrated more and more on serious illness in children, Anna Freud moved further up the scale of the ego, closer and closer to stability and health. Only time will tell which direction proves the most beneficial or the most illuminating. For now we must content ourselves with Anna Freud's vast accomplishments in the area of ego psychology: the way in which she has used her time and energy and vision to make contact with children, to understand them better, to gain them allies in the painful task of getting older, of becoming adult."
Stewart, R.S. (1972) Children were to be seen, to be heard and to be helped. New York Times, 23 January, 1.
---
The Freud Museum (1982) Anna Freud's Consulting Room. London: The Freud Museum.
The Freud Museum (1982) Anna Freud's Weaving Loom. London: The Freud Museum.
"The slow and rhythmic activity of weaving allows your mind to wander and be filled with thoughts, much like dreaming or the 'free association' that Sigmund Freud asked of his patients in therapeutic sessions. His daughter, Anna Freud, was a pioneer of Child Psychoanalysis as well as a keen weaver who, it is said, composed her psychoanalytic papers while working on her loom"
Reference: The Freud Museum (2020) Anna Freud: Life and Work. Available from: http://www.freud.org.uk [Accessed 2 March 2020}.
LaFleur, R. (2016) Anna Freud's Weaving. London: The Freud Museum.
"A type of cure, Anna Freud integrated her love of knitting, sewing and weaving into her daily life, and even into her psychoanalytic practice. In her memoir, Sophie Freud, Anna Freud's niece, recounts one of her typically pithy exchanges with the elderly Tante Anna:
'You sew all your own clothes by hand?' Sophie recalled asking her aunt while looking at her garments with surprise. Anna Freud, in turn, could only wonder about her niece's question. 'Of course,' she finally responded, a bit impatiently, and with a sense of humour: 'it would after all not be practical to use a sewing machine while I see patients'.
"In fact, it has been noted that Anna Freud often used the metaphor of weaving, (not archaeology which is the metaphor employed by her father) with its layers that can be woven and unwoven, to understand the complexity of the human mind and the role of psychoanalytic therapy."
Morra, J. (2017) Unsettling Memory. Vienna: Sigmund Freud Museum.
---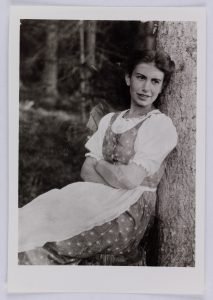 The Freud Museum (2020) Anna Freud. London: The Freud Centre
In 1914, Anna Freud started a teaching apprenticeship at the Cottage Lyceum in Vienna, where she spent six years as an assistant teacher.
"She soon gained a reputation as a gifted, compassionate teacher. Her colleagues and superiors were deeply impressed, and before long she became head of the second grade."
Reference: The Freud Museum (2020) Anna Freud: Life and Work. Available from: http://www.freud.org.uk [Accessed 2 March 2020}.
A new direction for psychoanalysis
"Sigmund Freud worked mostly with adults, helping them to reconstruct their early years through the traces that remained after repression had taken effect. By contrast, Anna Freud was mainly interested in working with children."
Reference: The Freud Museum (2020) Anna Freud: Life and Work. Available from: http://www.freud.org.uk [Accessed 2 March 2020}.
Anna Freud's method of child analysis
"Anna Freud thought child analysis should stick to the basic theories of psychoanalysis, but should be distinct as a mode of therapy. She argued that children should only be analysed when they reached the latency period, which begins around the age of six."
"Anna Freud emphasised the importance of establishing a strong therapeutic alliance with child patients. She was sensitive to the fact that that unlike adults, who usually seek analysis voluntarily, this is rarely the case with children. This preliminary stage was intended to gain children's attention and trust before conducting any therapy with them."
"A fundamental principle of Anna Freud's work is that every child should be recognised as a person in his or her own right. She was interested in creating a therapeutic alliance in accordance with each child's specific needs. In one case, she helped a boy to write down his stories. In another, she knitted clothes for a girl's doll."
Reference: The Freud Museum (2020) Anna Freud: Life and Work. Available from: http://www.freud.org.uk [Accessed 2 March 2020}.
Anna Freud hardly ever used a psychoanalytic couch when working with children.
"She recognised that children struggle to keep still and focused, and that they could only be expected to engage in free association to a very limited extent. Instead, she allowed her child patients to move about completely freely in the treatment room: if a child romped around on the carpet, she would do the same!"
"She also made drawing materials readily available, and encouraged children to use them. These drawings were regarded as important means of expression, every bit as significant as the spoken word."
Reference: The Freud Museum (2020) Anna Freud: Life and Work. Available from: http://www.freud.org.uk [Accessed 2 March 2020}.
The Telegraph (1942) In Picture: War Babies. London: The Daily Telegraph.
Hampstead War Nurseries
"In 1941, Anna Freud, with her friend and colleague Dorothy Burlingham, opened 'The Hampstead War Nurseries', caring for babies, toddlers and young children, separated from their families by the vagaries of the war.  In-service training required staff to write detailed observations about the day-to-day behaviour of the children. These observations were discussed every evening with Anna Freud and Dorothy Burlingham and their understanding became crucial in helping to refine the insight in the child's normal and pathological development.  These observations became the basis of two fascinating publications entitled 'Young Children in War Time' (1942) [an investigation into the need for personal attachment, emotional stability, and therapeutically informed educational influences] and 'Infants without Families' (1944).
Sandler, A. (2015) Anna Freud. Available from: http://www.psychoanalysis.org.uk [Accessed 2 March 2020].
BBC Sounds
Mind Changers
Anna Freud and Child Observation
https://www.bbc.co.uk/sounds/play/b01s0s6m
"Claudia Hammond presents the history of psychology series which examines the work of the people who have changed our understanding of the human mind. Ana Freud, by insisting on observation in her nurseries, she promoted the understanding of the child's perspective. Claudia explores how Anna, the only one of Freud's six children to follow him into the field of psychoanalysis, started out as a teacher in 1920s Vienna and soon identified the toddler age as crucial to the child's future emotional development. After she fled to London with her father in 1938, she set up the Hampstead War Nurseries, the foundation for the Hampstead Child Therapy Course and Clinic, which became the Anna Freud Centre after her death in 1982. Claudia visits the Centre to meet Nick Midgley, a child psychotherapist there, and Dr Inge Pretorius, who is in charge of the Parent Toddler service. She also meets students training to be child psychotherapists, who are taught to observe in minute detail the interaction between children and carers in the way Anna Freud pioneered."
Hammond, C.  (2013) Anna Freud and Child Observation. In: Sounds [Radio]. BBC Radio 4, 26 April 2013. 28 minutes.
---
Children are People: The Life and Science of Anna Freud
by Dale Debakcsky
"During the Second World War, she had a chance to expand her knowledge of defense mechanisms, running the Hampstead War Nursery, a haven for children during the Blitz who couldn't be removed from the city.  She had to develop therapies to help ease children through the pain of losing their parents, and divided her charges up into small groups of families headed by a therapist to allow them to once again know the comfort of being loved, and avoid the regression to earlier developmental stages that often comes when one's stable love objects are no longer present.  It became clearer and clearer to her that each child had their own unique path through some regular developmental stages, that a good child psychologist must not attempt to foist a universal origin myth upon the child, but rather must follow as closely as possible their life story to find factors in the environment that deflected the child into self-damaging behaviour."
"Her work at the War Nursery bled into the development of a fully staffed, permanent clinic which featured not only therapy and support for children exhibiting neuroses, but also a nursery for non-crisis children, observation of which served as a baseline for normal developmental psychology that had not existed previously.  The titanic records kept by the nurses, teachers, analysts, and staff formed the basis of a publishing bonanza in the 1960s that spurred the blossoming of child psychology in America, leading not only to governmental programs like Head Start, but public mental health initiatives to educate new parents about their role in shaping the psychological health of their children".
"Instead of the property that children were assumed to be in the nineteenth century, Anna Freud instructed us, we need to think of them as fragile psychological beings who absorb all of the anger we direct at them, and inflict it ten-fold upon themselves and the world.  Abandonment, violence, belittling, all of these cause the child to employ a variety of defense mechanisms that interfere with normal development, trapping the child in repetitive activity or overpowering neuroses, and must be treated not with renewed harshness, but with a redirection of energy to substitutive activities, to play and art…Her overarching contributions, of giving children their due as people, and informing the world of their extreme sensitivity to the least of our actions, have made us better parents, and our world a more mutually supportive place".
Reference:
Debakacsy, D. (2018) Children are People: The Life and Science of Anna Freud. Available from: http://www.womenyoushouldknow.net [Accessed 2 March, 2020].
The Freud Museum (2020) Anna Freud. London: The Freud Museum.
Controversial Discussions: Melanie Klein and Anna Freud
The philosophical debates regarding therapeutic approaches to child psychoanalysis between Melanie Klein and Anna Freud within the British Psychoanalytic Society (1941-1946) were called the Controversial Discussions.
"The Controversial Discussions took place due to deepening differences between Melanie Klein and her opponents in the British Society—most significantly Anna Freud. Klein and a few of her closest colleagues circulate four papers embodying Kleinian theory. After each paper participants submit written comments, which are then discussed by the members. These eleven meetings come to be known as the 'Controversial Discussions."
Reference:
British Psychoanalytic Society (2020) Announcement of the Controversial Discussions. Available from: https://psychoanalysis.org.uk/announcement-of-the-controversial-discussions [Accessed 2 March 2020].
The Controversy
"Anna Freud, daughter of Sigmund Freud, advocated a 'pedagogical psychoanalysis', implicitly positing an immature and undeveloped child in need of the analyst's paternal authority and educational governance. In contrast, Melanie Klein, the London-based progenitor of Object Relations, proposed a strongly interpretive psychoanalysis for even non-verbal children, believing that clinical interpretation was an indispensible part of how the child riven by excessively sexual and aggressive phantasies made reparations to the besieged mother's body. Inspired by both, D.W. Winnicott theorized the importance of reproducing "good enough mothering" in the clinic…"
Reference:
Laubender, C. (2017) Child's Play: Psychoanalysis and the Politics of the Clinic. Available from: https://dukespace.lib.duke.edu/dspace/bitstream/handle/10161/16384/Laubender_duke_0066D_14349.pdf?sequence=1&isAllowed=y [Accessed 2 March 2020]
Anna Freud Presentation, Power Point